A couple of months ago I was dining out with my 8-year-old granddaughter Brooklyn and she asked why I had requested a straw for my iced tea. Hmmm. She proceeded to tell me how plastic straws are a big problem in bodies of water, especially for ocean creatures.
In June, the family made our biennial visit to South Padre Island, and Sea Turtle Inc. This important sea turtle conservancy rescues injured sea turtles in the Gulf of Mexico and provides safety for nesting turtles to lay hundreds of eggs. We have had the privilege of watching a release of new hatchlings as they make their way to the water, following the point of light of the moon or rising sun.
This year, Sea Turtle Inc. was emphasizing the dangers of plastic straws and how many of their rescued and sick turtles have consumed parts of straws and other plastics. Sea turtles are not able to regurgitate, the plastic provides the feeling of being full, and the turtles become weak and malnourished. The very next morning my grandson Blaine and I walked the beach and picked up at least 3 dozen plastic straws, either discarded by beachgoers or washed upon the beach!
Time magazine, July 23, 2018, edition, notes that an estimated 500 million disposable straws are used in the U.S. each DAY! Many of those end of in our waterways, ending up in the ocean. Starbucks just announced that it would stop using plastic straws by 2020. It's a start.
It's time for me to Skip the Straw. My daughter and I now carry clean metal straws in our purses, ready to use. I hope you'll consider skipping the plastic straw!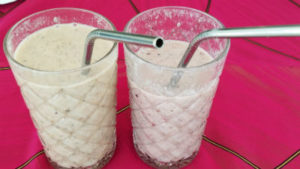 The delicious smoothies, found on page 231 in our new cookbook 8 Broads "Breakfast and Brunch Recipes", are perfect on summer days. The metal straws are a nice addition! Order your cookbook today at 8Broads.com.