A learning we will go, a learning we will go, hi ho the derry-o a learning we will go! The tune of the old children's ditty "The Farmer in the Dell" is currently an ear worm for me. But it doesn't diminish the excitement that Deb (Swiss Woods Bed & Breakfast) and I have as we prepare to attend the #IFBC18, International Food Bloggers Conference held in New Orleans.
Nine years ago, the 8 Broads in the Kitchen was born when we all attended an innkeeping conference in Atlanta. At the time, all 8 of us were foodies and successful business women. Each of us owned and operated bed & breakfast inns, with four of us continuing currently as Innkeepers while others have created new lives post-innkeeping, and many still involved in our great industry.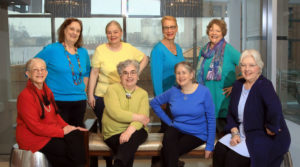 Food and friendship, laughter and tears, life's joys and sorrows unite us. We travel together, support each other, tell crazy (mostly true) stories sprinkled with humor and bold language. We love each other dearly.
Now it's time to focus on our food blog, and learn from the experts of food blogging. Of course, sampling great food is on the agenda at #IFBC18. I'm especially looking forward to the plethora of relevant workshops, plus hearing the keynoter Michael Twitty a renowned culinary historian and food writer in DC. His blog, Afroculinaria, fascinates me as he combines his love for African southern cooking with political commentary in powerful narratives. Mr. Twitty was recently awarded the James Beard Foundation Book of the Year Award for his book exploring the history of southern cuisine: The Cooking Gene: A Journey Through African-American Culinary History in the Old South.  Congratulations, Mr. Twitty!
We'll be sharing cool stuff from the conference in late August, 2018! And we cannot wait– A Learning We Will Go!